What a fun little idea to turn a teacup, saucer, and spoon into a charming bird feeder/bird bath!!
Brit, at
Esbe Chic
posted this idea a little while ago on her blog and I just had to try one for myself. Cuteness. . . .
A tutorial on this can also be found
here
on Cap Creations.
Note:
I tried a few different options on the posts and none of them were successful.
Let me know if you try one of these and make it work with something other than the copper pipe. I finally got digusted and went and bought a stick of it ($9-something at Lowes and then caps were $.48 each)
I found the teacups and acessories at the DI (big surprize) for dirt cheap.
It does make quite a difference when adherring the copper to the ceramic if you sand both pieces first. . . make SURE you sand it or you'll be pealing off the glue and doing it over the next day anyways. . . (trust me)
This is what I ended up with. . . Cute but I wasn't really happy with it.
Lucky for me, I had already Locktited the
Damn
darn thing together. . . .
You are suppose to fill the cups with water but I was too lazy to get some in there before I took the pics.
Check this out. . .
I'm linking this at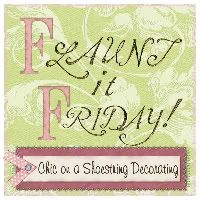 Stop by and check out what others have done this week :)